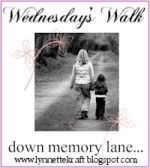 I just wanted to take this Wednesday to remember a little about my pregnancy with Carleigh.

I found out on August 10, 2008 that I was
pregnant
. I was quite excited as we only had been trying a month and it took us about 3 months to get pregnant with Kyndra. I had taken a test on that Friday but it was negative so I thought I'd wait a few days and retake it. I had planned on waiting until Monday but impatience got the best of me and I took it Sunday afternoon. It was faint, but it was positive!
Anthony was out mowing the lawn so I quickly went outside on our back porch and yelled for him. He stopped the mower and came over and I whipped the test out from behind my back and proudly exclaimed "We're gonna have a baby!" Of course, he was excited too! And so began our journey....
My pregnancy with Carleigh started off much easier than Kyndra. I wasn't dead tired, my breasts weren't sore at all, and I only had a couple episodes of nausea instead of a few weeks. I thought I was getting off pretty darn easy! Little did I know....
Days were filled with relishing on thoughts of our new baby, monthly doctor's appointments, ultrasounds at work, and thinking of baby names. Anthony was hoping for his boy and I said it didn't matter to me (all the while secretly hoping for another girl). My due date was originally April 17, but then changed to April 24 when I had my first
ultrasound
on Sept 2. We later learned near the end of my pregnancy that the original due date was correct. On Sept 17 I heard my baby's
heart beat
for the first time. What a beautiful sound!
I declined all
screening tests
offered to me by my doctor. I knew results of any test wouldn't make any difference to us, so why bother? Had I accepted those tests we would've had an abnormal one and found out sooner about our baby. I haven't decided if finding out sooner would've been a good thing or not. I'm sure it would've made me cherish the earlier months in my pregnancy more than I did.
We found out October 30, when I was 15 weeks, that we were having a little
girl
. It wasn't a scheduled ultrasound. Just had my friend scan me at work. We could've detected something was wrong at this point but we never looked at her head-just the other end. After learning we were having a girl we decided her name on Nov 13-
Carleigh McKenna
. Carleigh means "freeholder" and McKenna means "ascend". We didn't know how appropriate her name would really be at that time.
I felt my little girl kicking at 18 1/2 weeks and daddy felt her at 21 weeks, a little earlier this time around. Time was getting closer to our trip to Hawaii over Christmas. My whole family was excited to go. We had been planning this trip for about 3 years.
On Monday, Dec 15, I had my midway
ultrasound
at 22 1/2 weeks. This was the dreadful day we found out that Carleigh had anencephaly. We found out our daughter, whom we loved so much, was not going to live. We got the classic "
second opinion
" and it was such a waste of time. We pretty much shelled out a couple hundred bucks for some "doctor" to tell us what he thinks we should do, which was to end our daughter's life. Luckily, I knew more about anencephaly than what he realized and he couldn't fool me with his bullcrap. I will never go back to that place as long as I live.
We got Carleigh's diagnosis just a few days before we were to leave on our trip to Hawaii. We still went and had a great time as a family. It was honestly good to get away and to take our minds off of things-or at least try to (plus it wasn't a cheap vacation!). We went to a luau near the end of our trip and got a picture of all of us. When I see it, I see our whole family. You may not see Carleigh physically but I know she's there. I felt her.
Our
trip
soon ended and we had to face reality again. During the trip we let Hannah know about Carleigh. We tried to explain it as best we could without confusing her. We told her that there was something wrong with Carleigh's head and that when she was born she wasn't going to live. I think it was a little difficult for her to grasp but she understood the gist of what was going to happen and you could tell it upset her. We comforted her.
Not long after our trip we started (mostly me I should say) planning for the future that awaited us. I started this blog to document our journey. We contacted a funeral home to begin making
arrangements
. So many things were happening all at once. That's why I'm so glad I wrote everything down as it was happening because now when I don't exactly remember I can look back and see. One of the big things, besides the pre-arrangements, that I did was create Carleigh's
birth plan
. It took me quite a bit of time to compile all of our wishes and I even updated it later right before her birth. I'm very glad I wrote it and that our caregivers took the time to read it and follow it when the time came.
After finding out, the remainder of my pregnancy was different than the first half, as you can imagine. It was bittersweet. I cherished my time with her more. I felt joy with every kick and rejoiced with her first
hiccup
on Feb 27. What a day that was! They were very faint but they were there! The bigger she got the stronger and more frequent her kicks and hiccups became. I didn't develop poly and I was extremely grateful for that. I had a lot of hope for Carleigh being born alive. She showed so many good signs. We got a
3D ultrasound
and
maternity pictures
. These are things I treasure now. Seeing Carleigh on the 3D ultrasound was such an experience. The first thing I noticed when I saw her was her chubby cheeks! She had chubby cheeks just like Kyndra! She squirmed and wiggled. She opened her mouth and stuck out her tongue. She even sucked on her fist several times.
Carleigh always had certain times when she was more active. The morning and evening were the times of the day when she liked to kick around. Usually it was during the morning when I ate breakfast at work and during my bath in the evening. It was fun at bath time. Kyndra was usually in the tub with me. She'd play around and I'd lay back and relax and splash water over my tummy and I'd see my belly pop up from Carleigh's foot and I'd put my hand over it. She'd promptly move and kick somewhere else. One of the things I noticed was that when Carleigh was very active if I would sing she would calm down. I like to think that she heard me and my singing soothed her. I always sang. I did a lot of singing in the car on the way to work and home again so she heard me quite a bit. She would hear me at church too.
I had an
ultrasound
done and Carleigh's growth was lagging behind. At this point, I was measuring around 7 weeks behind and Carleigh's growth was almost as far behind. I made the difficult decision to get
induced
. I knew if Carleigh kept falling behind she was at that much more risk for being stillborn. So I set up to go in on March 27. That day came soon enough!
Things didn't turn out exactly how I wanted them to, but you can't have everything the way you want it all the time.
Carleigh
was born still on March 28 at 3:49 am. She was 3 lbs 15 oz and 13 1/2 inches long. My perfect daughter.