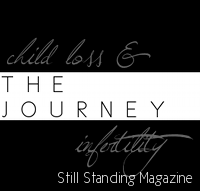 Linking up with Still Standing magazine. A few days behind but that seems like just how it is for me lately.
It has been 3 years 1 month 2 weeks and 1 day since Carleigh was born silent into the world. It's been 3 years 4 months and 4 weeks since we received her fatal diagnosis of anencephaly.
I never imagined this would be my life. I never wanted this to be my life. I'm so thankful that she was and is part of my life, even if her presence here on this earth was brief.
This road has had a whole lot of hurt in it but it's also had really wonderful moments. I cherish those moments and hold onto them when the hurt comes around.
The first year was the toughest for me, but God brought me through it. I am still standing and I give the credit to Him. He held me up when I felt like falling. He encouraged me when I felt like giving up. He embraced me when I felt so alone.
Even after 3 years I still think of her every day. Multiple times a day. I don't see that changing ever. A mother's heart doesn't ever forget or ever stop loving, even when a child is not in her arms.
I'm at a point where I can honestly say that I am ok. I'm living with happiness and joy even though she's not here. I still miss her desperately and there are still moments when my heart is crushed and tears fall, but I always have my hope of seeing her again. A lifetime is a long time without her but I know that what awaits for me is an eternity with her in Heaven. Nothing can compare to the joy of that.