On Saturday, June 19th, Anthony and I participated in the Sufficient Grace golf outing. This was our first year participating and I have to say it was a lot of fun! I have never golfed before so I wasn't sure how I would do but I can say that I did not suck terribly! lol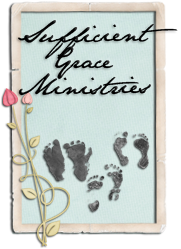 In case you don't know, Sufficient Grace Ministries is a non-profit organization that was founded by Kelly Gerken. SGM ministers to women and families who have lost a child and it is just an excellent ministry. The golf outing is one of their annual events in the summer to help raise money for the services they provide so that bereaved parents do not have to pay any money for things like the Dreams of You memory book and the Comfort Bear. I can attest to how important this ministry is as I am a recipient of their generosity.
The day was just absolutely perfect to have the golf outing. It was warm and sunny with no rain at all in sight. I was going to golf on Team Sufficient Grace (which included Kelly, Rachael, and Becki) and Anthony was golfing with his dad, brother, and friend Andy. Becki and I had never golfed before and we got to ride in a golf cart together. It was my first time ever driving one and it was pretty fun! Wouldn't mind having one of those at home! lol
We played 18 holes and then afterward had a dinner and prizes were given out. Team Sufficient Grace played hard but we still came in last. But no worries! I thought we did really great and towards the end we were just plain tired and hungry!! We had so much fun and shared a lot of laughs! Thank you Kelly, Rachael, and Becki for such a great time! Kelly's son James joined us on the second half of the course and kinda carried us the rest of the way. He's quite a good golfer!
You can read more about the golf outing on Kelly's blog. Now for some pictures!!!!
Thank you Kelly for asking me to be on the team! And you can support Sufficient Grace Ministries at any time by going to their website and donating. You can donate through Paypal or by sending a check.