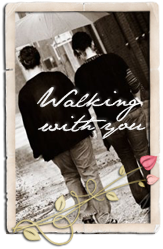 Walking With You is an outreach of Sufficient Grace Ministries, led by Kelly Gerken. We are a group of mothers who have lost a baby or child. We gather together from different places on our journey, each month to share our stories, to encourage, and pray for one another as we walk this path together. Our hope is that you will be comforted when you join us here...and maybe that we can offer some grace for the journey as we look to the Lord for comfort and strength.

This month for Walking With You, we are starting something new. We will be going through the Threads of Hope, Pieces of Joy Bible Study for the next nine weeks. Even if you have not joined us previously, you can join us for this. All are welcome.
I'm a little behind so I'm combining chapters 3 & 4 on this post.
Chapter 3 is titled 'This Can't Be Happening' and looks into biblical examples of grief such as Joseph (Genesis 37-50) and Job (book of Job). I think it really helps to read of examples of grief in the bible. I think Job is a wonderful example of grief and suffering. Reading Job may seem depressing to some but I find it encouraging. There's not many people who have suffered the depth of loss as much as Job. He lost 7 son and 3 daughters, all his possessions, and his health. That's pretty darn depressing. Job took his time and mourned. He felt the heavy weight of grief. In the end, he worshipped God and God later blessed him by restoring what he had and even doubling his possessions.
Of the scriptures looked upon in the study, the ones I relate to the most in Job are Job 3:25-26 and Job 42:1-3. In the first passage, I relate in that my worst fear has come true and it devastated me. In the second passage, I relate in that I don't know God's purposes and may not understand but I can be assured there is a greater purpose in it all.

Job 3:25-26:
25 For the thing that I fear comes upon me,
and what I dread befalls me.
26I am not at ease, nor am I quiet;
I have no rest, but trouble comes.
Job 42:1-3:
Then Job answered the LORD and said:
2"I know that you can do all things, and that no purpose of yours can be thwarted.
3 'Who is this that hides counsel without knowledge?' Therefore I have uttered what I did not understand,things too wonderful for me, which I did not know.
The next part talks about stages of grief, including relief, denial, and facing your loss. I feel that I am somewhere in between hope and acceptance. However, in planning for Carleigh's birthday party I am mostly in busyness. Lots of busyness. Letting go is the last stage and I'm not sure I'm ready to let go just yet. Is there even such a thing?
There's so much I lost when I lost her. I lost hopes, dreams, snuggles and hugs, first words, first steps, school, graduation, her wedding. Her whole life she could've had. It's difficult not being able to watch her grow up like her sister. I have to live the rest of my earthly life without her. It sure seems like a long time to me. I like the promise of 1 Corinthians 13:12: For now we see in a mirror dimly, but then face to face. Now I know in part; then I shall know fully, even as I have been fully known.
One day I will have the answers but until then Romans 8:28 tells me this: And we know that for those who love God all things work together for good, for those who are called according to his purpose.
Chapter 4 is titled 'Why Me?' and speaks on anger. I didn't relate much to this chapter as I haven't felt much anger in my grief with Carleigh. I express anger the way I express other negative-type emotions, which is keeping it inside. I don't like to talk about things, much to the frustration of my husband. I'm getting better but I'm certainly not the greatest at it. I find it much easier to write about it.
I guess I would say the thing that makes me angry about my loss is that my girls won't get to grow up together and be close. I wanted that for them and for me so much. My anger in crowds and public places has gone away. It soon resolved after I recognized what was happening and went in prayer about it and made the decision to try and have a different attitude. There have been those in our journey that have caused me some anger. Most of this is from our NILMDTS photographer and that situation. While it does still upset me when I think about it, I have chosen to let it go and move forward as best as I can. I don't want anger about things to consume me. The best way for me to do that is to forgive and to let it go. (Notice I didn't say forget! That's not as easy!) I don't think that it is wrong to feel angry but I do think we shouldn't linger on it and let it consume us. Ephesians 4:31-32 tells us to be gentle with one another and to forgive quickly just as God has forgiven us. This is a simple solution for other people but much for difficult for life situations.
As far as anger at myself or at God, I don't feel anger at either. I have questioned if it was something I did to cause Carleigh to have anencephaly but I wasn't angry at myself. Through this whole journey, I have never been angry at God. I know God is grieving with me and has carried me this entire time. He loves me and did not cause my daughter to die. I know God understands the best what I am going through-more than anyone else. I trust God completely and that is one thing that will never change.