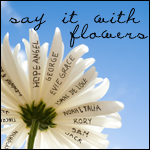 Giveaway #4 is provided by Sarah at Say It With Flowers. Thank you so much Sarah and Richard for the wonderful work that you do in creating these beautiful photos of names written on flowers. They are breathtaking and such a wonderful way to honor those who have gone on before us.

Here are some beautiful examples that they have created for my babies:


I have 2 opportunities for someone to have a loved one's name written on a flower, so there will be 2 winners for this giveaway!
To enter, please leave a comment telling me how you honor either your baby/babies or another loved one you have lost.
If you haven't read
this post
already, please do so that you know how I am running these giveaways.