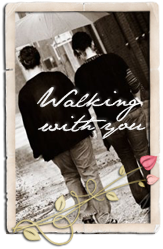 Walking With You is an outreach of
Sufficient Grace Ministries
, led by Kelly Gerken. We are a group of mothers who have lost a baby or child. We gather together from different places on our journey, each month to share our stories, to encourage, and pray for one another as we walk this path together. Our hope is that you will be comforted when you join us here...and maybe that we can offer some grace for the journey as we look to the Lord for comfort and strength.
This month for Walking With You, we are starting something new. We will be going through the
Threads of Hope, Pieces of Joy Bible Study
for the next nine weeks. Even if you have not joined us previously, you can join us for this. All are welcome.
I'm posting mine about a week late. I'm still trying to play catch up on things. I apologize!
Chapter 1 of the study is for us to share the story of our babies. I will give a short summary. If you would like to read further into our journey with our daughter you can read in the archives. I was 22 1/2 weeks pregnant with my daughter, Carleigh, when she was diagnosed with a fatal neural tube defect called anencephaly. It was devastating to learn my little girl would not live to grow up and fulfill the many dreams I had for her. I knew from the moment of her fatal diagnosis that I would carry her to term. There was no other option for me. I wasn't ready to let my daughter go.
The next months were spent planning for her arrival and enjoying the time I had with her. It is very wrong to have to plan for the funeral of your child while they are still alive in you-feeling her little kicks as my husband and I picked out her casket. But there were wonderful moments too. We had a maternity session done and I created a belly cast with the help of my friends. We also had the opportunity to see our daughter on a 3D/4D ultrasound-something that is quite a treasure to me know.
At 37 weeks I was induced and it was the early hours of the morning that my daughter was born. We hoped and prayed so much that we could spend some time with her alive but it wasn't God's will for us. Our daughter was born still. But I was not sad that she was gone when I first held her in my arms. I couldn't cry tears of sadness for I was just happy to have
her
-my beautiful little girl that I waited so many months to meet. She may be gone from this earth but I know she waits for me in Heaven.
Chapter 1 introduces us to the story of a grandmother, her 7 granddaughters, and a quilt that she makes for each of them. One of the granddaughters had a special relationship with the grandmother and on her birthday where she was to receive the quilt, she gets none. This hurts the granddaughter deeply and she grieves for the quilt she never got. The story is told so that those who grieve for their children can relate. Each chapter touches on more of the story.
Chapter 2 of the study has us answering some questions.
1) Where do I go to find the truth?
I first sought God once I found out about Carleigh's fatal diagnosis. He was so close to me in those moments. I also turned to the internet to research more about anencephaly. I knew about it already but I wanted to learn more. I found a support group called Anencephaly Blessings From Above that was a real blessing to me. The ladies in the group provided me with a lot of information and support on the journey. After Carleigh was gone I didn't really seek any help but God. I did read
I'll Hold You In Heaven
(which I had read previously before Carleigh) and
Safe In The Arms Of God
.
I didn't spend a lot of time in the scriptures around the diagnosis or when she was born. I mostly read scriptures online but I didn't open my Bible much. I'm slowly beginning to read it more, but it can be a struggle to find the time.
Psalm 19:7-10
tells me that God's Word is better than anything valuable. It tells us the way to live our life and what paths are right.
2 Timothy 3:16-17
shows me that every Word of God is useful. It can show me the truth and my mistakes.
Hebrews 4:12
says that no one can escape God's Word. God's words aren't empty. He means what He says.
2) Where does life come from?
God is the One who created us and breathed in us the breath of life. He formed us and made us who we are. We are marvelously made in His image.
In
Isaiah 46:3-4
, God says that He was with us before we were born and that He will carry us all our lives. God has been with me my whole life. He was with Carleigh from her conception and He carried her into Heaven. Her body wasn't strong enough to stay here on this earth but her soul was mighty.
3) Why was my baby too weak to live?
I know that it was nothing Anthony or I did that caused Carleigh to die. Scientifically, it was a random thing. But there have been many times I have felt chosen by God to carry such a special child. It was an honor to have her for my daughter. God could have healed her but He felt her life would have greater purpose being here for just a little while.
4) Where is my child now?
I have no doubt that my child is in Heaven. The scriptures give me comfort that she is in the presence of the Lord. After David's son dies in the Bible
(2 Samuel 12:15-23)
he speaks of how his son cannot come to him but that he will go to his son.
I've often thought about the day where Carleigh and I will be reunited. I don't think that I can fully comprehend the joy and glory of it all. It is a day when I will get to meet my Savior face to face and hold my children. I already feel like Heaven is my home.
5) Can I ever understand WHY?
There have been times when I have asked why but that question isn't important to me anymore. It won't change anything. Sure, it would be nice to know exactly why this all had happened, but it won't bring my daughter back. And honestly, I would never want to bring her back to earth after she has already experienced the joys of Heaven. She wouldn't want to come back. I wouldn't either.
Isaiah 55:8-9
says
For my thoughts are not your thoughts, neither are your ways my ways, declares the LORD. For as the heavens are higher than the earth, so are my ways higher than your ways and my thoughts than your thoughts.

God's wisdom far exceeds mine. He will always know better than I do about the matters in my life. I need to trust in Him.
6) How can God help me deal with losing my baby?
1 Corinthians 1:3-4
tells us that God will comfort us.
Blessed be the God and Father of our Lord Jesus Christ, the Father of mercies and God of all comfort, who comforts us in all our affliction, so that we may be able to comfort those who are in any affliction, with the comfort with which we ourselves are comforted by God.
God has been my number 1 source of comfort in my grief. His presence has been so near to me on many occasions on this journey and I have also felt like He was far away, even though He was with me the whole time. The love I have felt from God has been like a pair of arms wrapped around me and just holding me. It is so amazing.
God brought into our lives so many that also comforted us and gave us support during the difficult times. It always means so much to have our daughter remembered and to hear her name spoken. We never want her to be forgotten. I am thankful that I was able to walk with so many on the same journey who understood. What a blessing it has been.