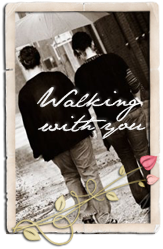 Walking With You is an outreach of Sufficient Grace Ministries, led by Kelly Gerken. We are a group of mothers who have lost a baby or child. We gather together from different places on our journey, each month to share our stories, to encourage, and pray for one another as we walk this path together. Our hope is that you will be comforted when you join us here...and maybe that we can offer some grace for the journey as we look to the Lord for comfort and strength.

Chapter 7 was about acceptance.

"The final stage of grief is acceptance. Acceptance means facing the full reality of the loss of your child. It is not the absence of pain, but learning to live with the ongoing reminders of your loss."

I believe that I am in the stage of grief now where I do accept what has happened and I am learning to live through it. I think there has been a part of me that has accepted this all along. Seems crazy, but it's true. I remember the day we got Carleigh's fatal diagnosis I accepted that this was the road that I was given, but there was still shock and devastation amongst that acceptance. I have no doubt that God was a big part of that.

But this road hasn't been easy even with acceptance. Grief can weigh you down. You have days when you are happy and days when you just can't seem to find much joy at all. I've relied on God a lot to get me through everything.

If you are tired from carrying heavy burdens, come to me and I will give you rest. Take the yoke I give you. Put it on your shoulders and learn from me. I am gentle and humble and you will find rest. This yoke is easy to bear and this burden is light. Matthew 11:28-30

We are like clay jars in which this treasure is stored. The real power comes from God and not from us. We often suffer, but we are never crushed. Even when we don't know what to do, we never give up. In times of trouble, God is with us, and when we are knocked down, we get up again. 2 Corinthians 4:7-9

I think these verses are very true. God can give us rest from the burdens that we carry. He never abandons us, even when we might think so. I am so thankful that God has been with me through this whole journey. I really don't know how I could have made it through this without Him. Even around the 6 month mark when he felt far away, I still knew He was there. And looking back I'm glad I didn't give up on Him, just like He didn't give up on me. I think that Satan was testing my faith, just like Job in the Bible. He should've known he wasn't going to win! There is nothing that can separate me from God. It even says so in one of my favorite verses in the Bible.

I am sure that nothing can separate us from God's love-not life or death, not angels or spirits, not the present or the future, and not the powers above or the powers below. Nothing in all creation can separate us from God's love for us in Christ Jesus our Lord! Romans 8:38-39

"Once you have experienced loss, you are never the same. After a period of intense grief, life must go on. It is then that you choose your attitude and response to your loss. You can look upon life as tough and grim or you can bear it willingly, as His child, sharing with Him only a fraction of what He bore for you."

It is so true that once you have experienced loss you just aren't the same. And how can you be? Losing a child is prolly the most devastating experience a person can go through. I personally believe this and I know there are others that feel the same way. Then why do people expect you to go back to the way you were? Is that even possible?

For myself, I am closer to the person I was before than I was just a year ago. It wasn't a change that happened overnight but gradually as I started to find more joy in life again. I have no expectations to be the person I once was nor do I really want to be. This is me now and I have completely accepted her and I fully expect others to do the same. I believe I am a better person now that I was before. I know how to love deeper and appreciate things more. I have more compassion. These are just a few of the ways I've changed for the better. I honestly can't think of even one way that losing Carleigh has changed me negatively. I feel like that would be like me saying something bad came from having Carleigh and that could never be true.

I tell you for certain that you will cry and be sad, but the world will be happy. You will be sad, but later you will be happy. When a woman is about to give birth, she is in great pain. But after it is all over, she forgets the pain and is happy, because she has brought a child into the world. You are now very sad. But later I will see you, and you will be so happy that no one will be able to change the way you feel. John 16:20-22

The verse above is one that I don't remember reading before. Perhaps I have, but it never really stuck with me. Reading it now, though, it has a lot of meaning. I have cried and I have been sad when the world around me seemed so happy, and it didn't seem right at all. It felt like everyone was going on with their merry little lives while I was stuck with this pain of losing my daughter. Do they even care? This verse gives assurance that the sadness won't last forever. It is possible to be happy again, with the greatest of happiness being in Heaven with our Lord and children.

Sometimes in facing the future it can seem a little uncertain. How do I go on living without my child?

When confronted with painful memories what do you plan to do?

I don't have very many painful memories. Most of my memories of my time with Carleigh are good ones. The most painful one that comes to mind was when we left the hospital and drove to the funeral home with Carleigh. Then handing her over to the funeral director and walking away. That was incredibly hard and the most difficult moment of my whole journey, but I'm still thankful for it even though it isn't the most pleasant of memories because it is a memory of her. Some people don't even get memories of their children like this.

How will you answer the question, "How many children do you have?"

It may not seem like it, but this can be a difficult question to answer. Our society seems like they want us to forget our dead children-that they don't count. That certainly isn't true! They count in every way possible! I know in my heart that I am a mother of 5, even though right now people only see 2. Even when you're pregnant you're a 'mother-to-be'. What!? That doesn't make sense to me at all. I became a mother to each of my child the moment they came into my lives. I've thought a lot on how to answer this question when asked, and I still haven't come up with the perfect answer for me that would include all of my children. Most of the time my answer has been (before I was pregnant) that I have 3 girls. Then that leads into how old they are and ultimately reveals to whoever asked that one of my children is dead, which then makes things awkward for them.

How will you respond when you meet a child born at the time of your loss or one that would be the same age as your baby?

I actually follow a few blogs of moms I know from Cafemom that were in the same due date group as me and I often see pictures of their children. When I see their children, I try to picture what Carleigh would look like if she were that big. I wouldn't say it is easy or difficult for me.

Who is presently supporting you in your loss?

I think that God is all the support that I will ever need. After all, He is the One that has gotten me through everything, but it is nice to be able to connect with other people through this. It means a lot for people to check in and ask how I am doing (and really mean it). And it's no surprise to me that I have found more support online than I have IRL.

At what point will you be finished with your grieving?

That's easy to answer! Never! I believe it is a lifelong process. It is more acute when the loss is fresh. As time passes and your heart heals, the grief isn't as painful but it's still there. How do I know this? Just talk to those who are 10, 20, or even 50 years on this road and they will tell you so. You never stop missing them or loving them.