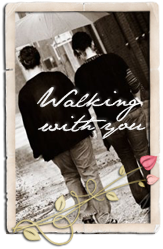 Walking With You is an outreach of Sufficient Grace Ministries, led by Kelly Gerken. We are a group of mothers who have lost a baby or child. We gather together from different places on our journey, each month to share our stories, to encourage, and pray for one another as we walk this path together. Our hope is that you will be comforted when you join us here...and maybe that we can offer some grace for the journey as we look to the Lord for comfort and strength.
I'm a little (way) behind in posting my entries so I'm just playing a little catch up!

Chapter 5 touches on the subjects of depression, loneliness, guilt, and fear.

Several times in the Bible it talks that in times of mourning people would dress themselves in sackcloth and cry out and weep. I wish that there was something nowadays that would show that a person is in mourning. In today's society those who are grieving are expected to dust off their pants and move on after only a short period of time. It isn't that simple.

So Jacob tore his clothes, and put sackcloth on his loins and mourned for his son many days. Genesis 37:34

When Mordecai perceived all that was done, Mordecai rent his clothes, and put on sackcloth with ashes, and went out into the midst of the city, and cried with a loud and a bitter cry; Esther 4:1

In their streets they shall gird themselves with sackcloth: on the tops of their houses, and in their streets, every one shall howl, weeping abundantly. Isaiah 15:3

Why does it seem so forbidden to express our grief? I have expressed my own grief in several ways, which includes crying, scrapbooking, and simply helping others. While it is acceptable to be sad initially, those who are grieving find that after a period of time other people tire of it. They think that it's time to get over it already. The sadness of losing a child doesn't go away quickly, if at all. I think that there will be sad moments for the rest of you life. They may not be as frequent as when the grief was so fresh but I still think they happen.

"When the full reality of our loss is revealed, we may be overwhelmed with our grief and sink into depression. Being depressed about losing your baby is a normal part of the grief process. We must allow ourselves to grieve, which will help us move on to healing."

I think the closest I came to be depressed after losing Carleigh was around the 6 month mark. God felt very far away and that made me lose some hope. Thankfully, it passed and I was able to feel God's closeness again. For some people, grief can also be very physical, but I didn't experience any physical manifestations.

"As no two crystal goblets shatter in exactly the same pattern, no two people grieve in the same manner. This, to, can be a source of loneliness as we seek out others for comfort. Even those with similar experiences may not be able to relate to our loss."

I think the above is very true. We are all different people and while we may grieve in similar manners each grief a person experiences is different. It is very comforting to find friendship with others who know what losing a child is like. There is a bond there that is formed instantly. But above everyone else, I have relied on God to help me overcome every obstacle I have faced. He is the only One who can give me victory when the enemy tries to defeat me. There has never been a time, even when He's felt far away, that He hasn't provided for me and comforted me. It may not have come straight from Him but I know that He had a hand in it.

I think we all know grief can be very lonely. Perhaps not right after your baby has passed but as the weeks and months go by the support that was once there disappears. People move on with their lives and assume you are doing the same. I can't stress enough how important it is for people to still give support to grieving families months, even years, after. Often it can feel like you are forgotten, which also feels like your baby has been forgotten. And feeling like you baby has been forgotten is an absolute terrible thing for a parent to feel. We never want them to be forgotten.

It's in our loneliness that we must turn to God, not away from Him. It may be so easy to think that God doesn't love or care for us or that He caused our babies to die. That simply isn't true. He is grieving with us. Jesus was no stranger to loneliness-He died alone on the cross. He knew grief and sorrow intimately. In fact, I believe He felt the most immense grief ever imaginable. Can you imagine carrying the burdens and sins of the world and knowing you had to die to save them? I cannot fathom it.

Along with blaming God, it can be easy to blame ourselves for our babies dying. In the beginning, I felt guilty because I thought it was something I had done to cause my daughter's anencephaly. Perhaps I could've prevented this. It's easy for Satan to grab a hold of our guilt and use it to attack us. He wants us to feel as low as possible and to turn away from God. Even in the midst of my own guilt, I knew that I could do everything perfectly and the outcome might've still been the same. We live in an imperfect and sinful world, and unfortunately our children are not exempt from it no matter how much you wish they were.

Guilt is normal in grief. It's often a result of us trying to find a logical explanation to why it happened. The truth is there are few, if any, answers for us here on earth. I found it best to turn the guilt over to God and rest in Him.
New fears arise after losing a child. I think a parent's worst nightmare is losing a child. So what is there to fear after you've already experienced the worst imaginable? For me, it is losing another one. And the fear is a very real one to me because I don't have blinders anymore. I am very aware of what can go wrong and that burying your child can become a reality. God has helped calm many of my fears. He reassures me when I feel unsure. Something else that helps me is being with Kyndra. When I am with her I don't focus on bad things happening.
Isaiah 41:10,13
fear not, for I am with you;
be not dismayed, for I am your God;
I will strengthen you, I will help you,
I will uphold you with my righteous right hand.