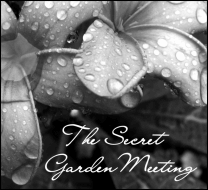 The Secret Garden Meeting is a place for bereaved parents. It is our garden, our secret place to come to. A place to remember our children with those who understand us. It is a place to just be, without worry or fear of not being accepted and to share our hearts.
This meeting we would like to talk about where you are. Where are you at in your grief? Has it been years or just weeks since you lost your baby? How are you feeling? How do you hope you will feel in the future? Have you found any peace at all?
It has been over 7 months since I have said hello and goodbye to my precious Carleigh. How am I? I would say pretty good. Most days I am generally happy. When I have a sad moment it usually doesn't last very long and it's most often triggered by a song that I am listening to. So I guess it most often happens in the car while I am driving to and from work.
I've always had peace about this journey. But even with peace you can have moments of pain and longing. I imagine as more time passes these moments won't happen as often as they do now and I am ok with that. I know I will never forget.
I hope I can always continue to live with happiness and look back with a smile as I remember the times that I spent with her and to also keep my eyes on the path that will lead me back to her and my Savior.