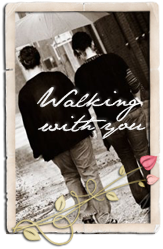 Walking With You is an outreach of Sufficient Grace Ministries, led by Kelly Gerken. We are a group of mothers who have lost a baby or child. We gather together from different places on our journey, each month to share our stories, to encourage, and pray for one another as we walk this path together. Our hope is that you will be comforted when you join us here...and maybe that we can offer some grace for the journey as we look to the Lord for comfort and strength.
This is the last of the bible study! Thanks for those who participated or read!
Chapter 8 is about letting go.
What does it mean to let go? It is not the same as forgetting and it is not simply "getting on with your life". Letting go means releasing your child into the hands of God. Letting go also means releasing your grief into the hands of God. Even if our babies had lived, God would ask us to let go of them. This letting go is gradual-the first steps, kindergarten, college, marriage. When a baby dies, the letting go must happen all at once and it must be a choice of our will. Emotionally we must choose to place this matter into the arms of our Father, knowing He wants to fill our empty places with Himself.There is no pit so deep that He is not deeper still. –Corrie Ten Boom

Are you "in the pit"? If so, what keeps you there?
I've never felt that I have been in a pit on my entire grief journey with Carleigh, but I certainly was with Jordan. I believe the above quote to be true. God is bigger and deeper than anything we could ever experience. He's gotten me through every tough time in my life. He pulled me out of the pit and gave me hope. He healed my heart, and while there are still scars, I am glad they are there because they remind me of where I've been. It is only by Him that I am able to overcome.
And now, O Lord, for what do I wait? My hope is in you. Psalm 39:7
I rise before dawn and cry for help; I hope in your words. Psalm 119:147
I wait for the Lord, my soul waits, and in his word I hope. Psalm 130:5
What hope do we have that our children are in Heaven?
One verse that gives me a lot of hope is 2 Samuel 12:23. After David's son dies he says, "I shall go to him, but he will not return to me." This gives me hope that I will see my children again one day. I will go to them and we will be together forever.
How can we know that we are going to Heaven?
Jesus says in John 14:3 that He is going to prepare a place for us and will come back to take us. He says in verse 4 that we know the way and when Thomas questions him Jesus says in verse 6 that He is the way, and the truth, and the life. You must believe in your heart that Jesus was raised from the dead but you must also speak with your mouth that Jesus is Lord. (Romans 10:9)
What will our Heavenly body be like?
I have wondered before what people look like in Heaven. 1 Corinthians 15:40 says, "There are heavenly bodies and there are earthly bodies, but the glory of the heavenly is of one kind, and the glory of the earthly is another." I envision our heavenly bodies being similar to our earthly ones yet they are different. They are more magnificent and I always imagine them having a soft glow. But I know that I cannot even begin to imagine or fathom what it will be like in Heaven even though I try.
Will we recognize our children in Heaven?
I do believe that I will be able to recognize my children in Heaven. They'll know me and I'll know them. In Matthew 17:1-5, some of the disciples were able to recognize Moses and Elijah without ever having seen them before. I believe in Heaven we'll have the knowledge of many things and one of them is knowing who everyone is.
Chapter 9 is about finding joy.
Joy is a feeling that follows a choice. Our joy comes not as a result of circumstances or events but by choosing to trust God no matter what our circumstances.
I really like what the above says. I do believe that a person can choose to have joy in their lives or choose to keep it out. No one ever guaranteed us life would be easy or fair. I think it speaks volumes how you choose to react to both blessings and trials in your life. You can find joy in both.
Trusting God may not come naturally to you and it can be difficult when times are tough. And can even be more difficult to praise Him thru the storm. One thing you must remember is that God will never disappoint you. He is beside you in each trial and carries your burdens. He weeps when you weeps and rejoices when you rejoice. He is very much involved in every detail of Your life.
In my own life, I trust God completely and with every aspect of my life. It hasn't always been this way. The experiences that I have had have shown me exactly how good God really is and how much He loves me. And there are even times now when I falter and forget to put my trust completely in Him. I try to do things on my own, which don't always work out the best for me.
In this you rejoice, though now for a little while, if necessary, you have been grieved by various trials, so that the tested genuineness of your faith-more precious than gold that perishes though it is tested by fire-may be found to results in praise and glory and honor at the revelation of Jesus Christ. Though you have not seen him, you love him. Though you do not now see him, you believe in him and rejoice with joy that is inexpressible and filled with glory, obtaining the outcome of your faith, the salvation of your souls. 1 Peter 1:6-9
I can definitely attest that faith is tested in trials. My own faith has grown so much and I know that it may not have been possible if I hadn't experienced what I have. There is times tough that I wish there could have been a different way to learn what I have and to grow, but I must accept that I do not know what is best for me. I've done a pretty good job at messing up in my life. If I had trusted God to lead the way instead of taking my own path I would be much better off today. But I also find it hard to wish away the things that have taken place because of the growing that I have done. I regret but yet I don't regret. Kind of a weird place to be!
Every day I find more things to be joyful over. The Lord has truly blessed me.
Those who sow in tears shall reap with shouts of joy! Psalm 126:5