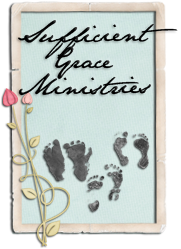 Wanted to post the events coming up to help support
Sufficient Grace Ministries
.
Sunday, May 23, 2010
~ Ice Cream social to benefit Sufficient Grace Ministries at Harvest Fellowship Church in Hamler, Ohio from 12:00-2:00pm. It will be a picnic-type lunch of hot dogs, baked beans, chips and ice cream with toppings for dessert. Free will offering...proceeds will benefit the outreaches of SGM.
May 27, 2010
~ Kelly will be presenting an informational seminar for caregivers and staff at St. Rita's hospital in Lima, Ohio. Please pray for preparations for this event.
Saturday, June 19, 2010
~ Sufficient Grace Ministries Golf Outing 2010 at Country Acres Golf Club in Kalida, Ohio. Shotgun start at 2:00pm. There are many ways to get involved with this. You can form a four person team with the cost being $200/team ($50 ea.). Price includes 18 holes of golf, cart, and dinner. You can sponsor a hole for $100 or share a sponsorship for $50. Donate a door prize or a make donation in any amount. Become a dinner sponsor for $250. Please pray for this event and the outreaches of this ministry.
For more information on any of these events you can visit
sufficientgrace.net
or email Kelly at sufficientgraceministries [at] gmail [dot] com.
Also, there are buttons now up on the
Dreams of You shop
that make it possible to sponsor families who request items made available by Sufficient Grace Ministries. Stop by and take a look. It's a great way to pass it forward for kindnesses others have shown to you. You can even sponsor a family you know and donate the items in memory of a child that they have lost. Kelly also makes it possible for you to help hospitals provide these materials to families. Check out the shop for more!!