Day 21 – a recipe
Buy this and follow the directions on the side to make blueberry streusel muffins. Oh my gosh, they are so good. My new favorite thing to make.
Day 22 – a website that has been meaningful since your loss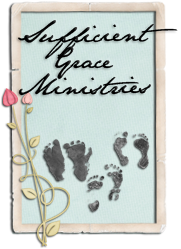 The website for Sufficient Grace Ministries has meant the most to me. Kelly does a great job at reaching out to women and helping them through their grief, whether it is through her words or the services of her ministry.
Day 23 – a youtube video that makes you laugh
I remember when this was going around FB. It really cracked me up!! I even had to show my hubby and he thought it was hilarious! The first video is the news story and then someone made it into a song for the second video.
Day 24 – where you live
My husband and I are originally from NW Ohio. We moved to SW Ohio 5 years ago because of my job. We bought our home right before we got married. It's in a very, very small town in the middle of cornfields. It's basically like living in the country even though our neighbors are a little closer.
Most of our neighbors are older and we like it that way. And I'm pretty sure they like us too because I know they don't want us to move!
Our house is aluminum siding and could really use a new paint job or new vinyl siding. We'd really love to have a garage too instead of the seen-better-days 'garage' out back. We have an upground pool that we are going to tear down this next year and most likely put a new one up since it has also seen better days.
We have a decent sized yard as our property is actually two lots instead of one. We have a little playset in the back yard for Kyndra that she loves to swing and play on (you can kinda see it in the last pic) .
The pictures below were taken in July 2009. Don't mind the weeds! I haven't been very diligent about pulling them the past 2 summers.
Day 25 – your day, in great detail
Since I'm still on maternity leave right now my day is a little different than it normally is.
I woke up around 2 am to feed Lainey, change her diaper, and to pump. I woke up again around 4:30 am for another feed, change, and pump session. Got up for the day at 6:15 am and started off with a feed, change, and pump. Anthony got up around 6:45 am and Kyndra was up not long after so I went up and got her and changed her diaper. Lainey was chilling out on the boppy while Kyndra drank some chocolate milk and I had some Golden Grahams cereal.
Kyndra watched some tv and played most of the day. Lainey slept and ate most of the day.
My activities for the day included catching up on my devotion, checking my email, checking in on FB, reading a couple blogs, uploading and editing pictures, washing and folding laundry, dishes, watching tv, getting the mail, making wipes, stuffing diapers, feeding Lainey, and playing with Kyndra.
I'm not gonna go into great detail on all of that because it might be a little boring.
As far as tonight, Anthony will be home soon and we'll eat supper. He'll prolly ride his bike down in the den while Kyndra plays and I'll be in the living room feeding Lainey and watching tv. I think I'll skip baths for the girls tonight so that Anthony and I can watch a movie and eat ice cream.