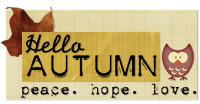 Who doesn't love giving gifts to others? I know I always have fun exchanging gifts and in the past I've participated in the Remembering Together Swaps and the Faces of Loss exchange over the summer. Well, in the US it is autumn and what a better time for a gift exchange than now?
The rules are as follows:
Sign up at either:
Caring for Carleigh
My Angel Baby...Aiden William
Small Bird Studios
Viva la Vida
Please only sign up once. If you sign up on any one of these blogs you do not have to sign up on another one as it will show up on all four. When signing up please type your name and your blog name (Name @ Blog Name).
There is a limit of $15 for a Fall theme gift like ornaments, scarves, fall baking kits. Feel free to share with your partner why you chose that gift... a baking kit for a little sweetness and warmth to their Autumn, etc.
Partners will be picked and posted by October 29th. It is up to the partners to get in contact with each other and exchange mailing addresses.
All items MUST be shipped by November 7th.
There will be a follow up link up that partners may participate in to show off their piece of hope on November 21st.
Please, please, PLEASE….only participate if you can guarantee your partner will receive a gift. It is a little disheartening when you sign up for an exchange but then don't receive a gift. It's happened to me and I know it has happened to others. Don't disappoint your exchange partner!