I wanted to share the beautiful pictures that Lisa from Lisa's Hawaiian Names created for my Carleigh. I don't really share name pictures on here anymore since I put them all on the FB page, but Hawaii has always had a special place in my heart and the fact that these were written in Hawaii plus Carleigh was still with us when we made our last trip there makes these extra special to me.
You can get your child's name written by Lisa too. Just click the button below.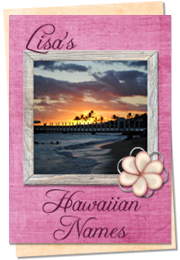 Here are the pictures Lisa sent me that she took on the island of Maui. I just love the color of the sunset so much.
Along with the photos I also bought what is called an Island Keeper. They are made by an artist in Hawaii. Lisa put in my island keeper some sand from the beach where she wrote Carleigh's name and also a dried flower, sand dollar, shell, a piece of coral, and a small green turtle. It was neat seeing all that was in there.
Thank you so much Lisa!