For Mother's Day I took part in the Remembering Together Bouquet Swap.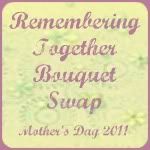 We had to make a flower or bouquet of flowers and send it to a fellow babyloss mom. A lovely lady named Shannon made my bouquet and included the colors that remind me of my babies.
Thank you, Shannon, for the wonderful bouquet! It's sitting in the middle of our table.
I also tuned in to the most recent Anchored By Hope radio show and won a customized snow globe from Kristie.
I just happened to pick the closest number to 12 and I picked 11 (my lucky number!!).
The snow globe is very pretty and has the words "Never lose hope" and is customized with Carleigh's name. The song it plays is called Romance. I've never heard it before but it is a wonderful tune.
Thanks Kristie!!