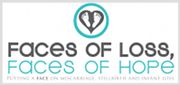 Valentine's Day is quickly approaching. Write about something special a friend, family member, or other loved one did for you after your baby(ies) died that really touched your heart.
So many people did kind and loving things for us before and after I gave birth to Carleigh, but there is always one that stands out among the rest. I have shared this before on here but I would love to share it again.
On April 3, 2009 we had an evening visitation at the funeral home for Carleigh. Anthony and I got there a bit before the visitation started and just spent some time with Carleigh by ourselves. People came to show their love and support. Many family and friends traveled several hours to be there, which we greatly appreciated.
When our pastor arrived he had a package for me that had been sent to our church. The package was from Sue from
My Forever Child
. Apparently Sue had been following along with our journey as I blogged and was touched by our faith and devotion. Sue gave us her sympathies and had enclosed a gift for me. I just couldn't believe it when I opened it up. She had sent me a bracelet with Carleigh's footprints on it and with her name and birthday engraved on it. I was floored. Here, somebody I didn't even know had sent something so wonderful and meaningful at I time I really needed it. Sue had taken her footprints off the blog and put it on a piece so that I could take her with me wherever I went. I think I showed everyone that walked in the door my bracelet that evening because I was so excited about it.
In addition to my bracelet, Sue also sent a small bag of
pins
for our family members to wear. The pins have the logo of My Forever Child and the saying "Always in my ♥". I passed them out to our family at the visitation and also kept one for myself . My parents still wear their pins every Sunday to church.
Ever since that moment, Sue and My Forever Child has held a special place in my heart. I'm so glad to call her my friend. I've since purchased several more remembrance pieces from her and given away many pieces. I've even become an affiliate where I earn money from every purchase through my link, which I use to help buy remembrance jewelry for other loss moms or to giveaway here on this blog. Sue has shown me how much it means to be the recipient of a small act of kindness. I only hope to keep paying it forward.