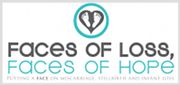 It's easy to focus on all the negative things that come from losing a baby, but have you discovered any 'blessings in disguise' throughout your journey? What can you find to be thankful for related to your loss?
Losing a child absolutely is the worst thing that can ever happen to a person, but I really do believe that even in the midst of such a tragic event, good things can happen. Perhaps I feel that way because I am the eternal optimist.
My children have touched my life so immensely and forever changed who I am. I wholeheartedly believe that their lives have made me a better person. I wish that I didn't have to live this life without them but this is the path that I was given. All I can do is just try to walk it the best that I can.
I am thankful that they existed, even if for a short time. They have made my faith stronger and unshakable. There is nothing in this world that could ever break it.
I am thankful that I knew ahead of time that Carleigh wouldn't live. It was a blessing to be able to treasure the time we had left together and to make plans for her. It also allowed us to get many keepsakes and photos and for that I am thankful.
I am thankful for the many family, friends, and even complete strangers who gave us love and support through our whole journey and even now.
I am thankful for God's love and forgiveness even when I don't deserve it.
I am thankful for and blessed to have a wonderful husband and beautiful children that grace both Heaven and earth.
I am blessed to be able to know and help others who have lost.
I am blessed to know that my children have touched the lives of others.
I am blessed to know that one day I will be reunited with Carleigh and Jordan and I will be able to hold them for eternity.
It's hard to completely describe my life now compared to before. I was changed after Jordan and then changed again after Carleigh. The road hasn't been without bumps but with God by my side I know I can get through anything.