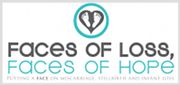 I'm linking up with Faces of Loss, Faces of Hope for their monthly writing challenge. This is September's:
How has the changing of seasons (from summer to fall) impacted you in your grief journey?
Last year the changing of the seasons was kind of a turning point for me. In September of 2009 it had been 6 months since Carleigh's birth and I was feeling pretty low but then things started to get better after that month. Sure, there were still times when it was difficult but I began to feel like we were really gonna get through this and be ok. I started to realize some of the things that triggered me and I worked on getting better at dealing with those things.
This year I feel a new turning point with the approaching birth of our rainbow baby. A new time of joy that we are looking forward to very much.
The actual changing of the season really has no impact on me at all. I don't really see Autumn as a season of things dying. There's so much beauty in the season and I like to focus on that. All the sights and smells make me remember happy times more than anything. Of course, I've always been a half glass full kinda gal even when times are tough.