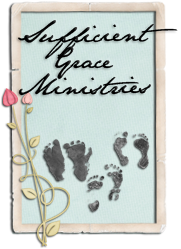 This Saturday, June 19th is the 3rd annual Sufficient Grace Ministries Golf Outing. Proceeds from this event will benefit the local and nationwide outreach efforts of Sufficient Grace Ministries for Women and Families.
The golf outing will begin at 2:00 pm and will take place at Country Acres Golf Club in Kalida, Ohio.
It's not too late to sign up a team if you are interested. Each team should consist of 4 people and the cost is $50 per person and includes 18 holes of golf, a cart, and dinner.
If you can't join us on Saturday, would you considering becoming a sponsor or donating to the event? There are still $50 & $100 hole sponsor levels available or you can give toward sponsoring a family or other item.
Please contact sufficientgraceministries@gmail.com ASAP for details.
We would appreciate your prayers for good weather!