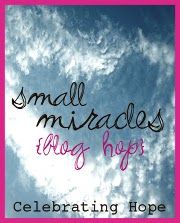 Do you have a small or big miracle that has brought you hope lately? Link up with
Franchesca
and share with others on her blog hop of hope entitled Small Miracles.
Have you ever read the books by SQuire Rushnell that talk about Godwinks? I've only read one of his books in the
When God Winks
series called
When God Winks at You
. It was given to me by family friends when I was hospitalized for a week after having a pretty bad bleeding episode when I was 26 weeks pregnant with my daughter, Kyndra. I took a liking to the term Godwink. In his own words a Godwink is "a personal signal or message directly from a higher power, usually but not always, in the form of a coincidence."
I just love the idea of Godwinks and I've had my share of them. But what about our children? Can they send us little winks too? I like to think that they can, but I've never been too sure.
On the evening of the Super Bowl we went to the house of a couple we are friends with at church. We ate dinner there and enjoyed each others company along with our Pastor and family. It was a really good evening. Like many times each day, I had moments where I thought of Carleigh. Then out of nowhere I had my very first Carleighwink. Sure, I've had times when I saw something and thought of her but never moments that just couldn't be explained.
I had Lainey on the floor and was changing her diaper. I was wearing my necklace of Carleigh's that I do almost every day. On the necklace is a pendant with Carleigh's handprint and footprints. Lainey is always grabbing at my necklace and while I was leaning over her it was hanging and she grabbed onto it. She had a hold of it for several seconds and then the pendant came off in her hand. At first I thought it had broke and was a little upset but when I took the pendant out of Lainey's hand I noticed that the small ring that holds the pendant onto the chain of the necklace was intact and perfect. I checked the necklace to make sure it had not broken and it, too, was perfect. There is absolutely no explanation as to how that pendant got off my necklace. Believe me, I've tried to explain it logically and I can't.
That moment was my little Carleighwink and I hope that she sends me more.